---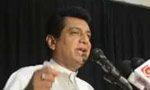 The minimum fine for traffic offenses is to be increased to Rs.2,500 through the 2017 budget in an effort to arrest the increasing number of road accidents, Deputy Transport and Civil Aviation Minister Ashok Abeysinghe said.
He said this when asked about the strike by the Lanka Private Bus Owners Association (LPBOA), which was later called off.
The deputy minister said that by making such demands the private bus owners were requesting us to allow them to drive the buses in a manner that pleases them.
"The number of road accidents continues to increase and this fine would restrain the drivers from driving the vehicles recklessly and maintain road discipline. This increased fine has been imposed to help save the lives and limbs of the commuters, pedestrians, drivers and conductors. In foreign countries the fine amounts to US$150 to 200. In Australia it is about AUD500. Only in our country that a very low fine has been imposed so far," he said.
"See how three-wheelers are driven. They flout all road rules and often end in accidents. The fine was increased purely to minimize the road accidents and to induce the drivers to be more disciplined," he said. (Shiva Bandara)