---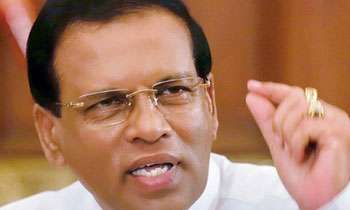 President Maitripala Sirisena said that consumption of some imported milk power, would not be healthy for the population, despite the claims of individuals attempting to defend allegations that what was sold as milk powder was a mixture of lactose and animal fats.
Addressing a ceremony on Friday to hand over the title deeds for plots of land to 10,000 farmers in Mahaweli Zones and to reward the farmers for their unstinted efforts to make the national food production campaign in 2018 a success, he said that milk powder importers should not be allowed to handle people's health.
"Steps should be taken to boost liquid milk production in the country to resolve this issue," he said.
"Today about 15 countries consume imported milk powder. It is sad that Sri Lanka is one of them. A health hazard caused by imported milk powder has been gathering momentum and it had been the focus of attention in the political circles.
"The Speaker had dispelled the fears of Parliamentarians and said that they were given liquid milk and not milk powder.
"Meanwhile the Minister of Health had refuted the allegations against imported milk powder. I had been Minister of Health for five years and I did not allow the multinational company owners to enter the gate of my house or the Ministry. I still uphold that policy. I must tell the truth no matter they hate me. Today, drug-traffickers, liquor traders, and pharmaceutical importers hate me," the President said.(K.G.Karunaratne)