---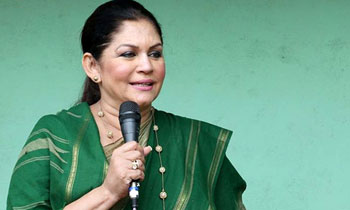 In reference to the statement made by Elections Commission (EC) Chairman Mahinda Deshapriya that the implementation of the 25% quota for women in local government elections is uncertain, Colombo's Mayor-elect Rosy Senanayake urged the EC Chairman to take steps to implement the 25% Quota for Women in LG polls immediately.
Issuing a press release, she said the 2017 Local Authorities Elections Act, which amended the Local Authorities Ordinance, was successfully brought before Parliament by Prime Minister Ranil Wickremesinghe, and was the result of 20 years of agitation by women working on the ground. The Act was passed in unanimously in Parliament with not a single vote being cast against it.
"As one of the driving forces behind the provision, I can say with certainty that the law on the minimum representation of women is clear-cut. Under section 27F of the amended Ordinance "not less than twenty five per cent of the total number of members in each local authority shall be women members" The section is unambiguous and straightforward; it is not open to interpretation," Ms. Senanayake said. "Under the Ordinance,a minimum of 10% of nominees from each political party for election through the Ward system has to be women while a minimum of 50% of nominees on the separate additional persons List of each party has also to be women. This formulation was put together with the sole aim of ensuring that a minimum of 25% of the members in each and every Council are women.
Ms. Senanayake said it was necessary to amend the law to further clarify the details of how exactly women members had been allocated by each political party in different circumstances in order to ensure the 25% minimum of women members.