---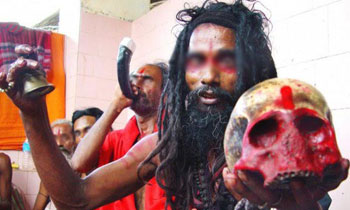 Twenty seven Indian nationals who were engaged in soothsaying and sorcery in the North by violating their visa regulations were nabbed by the Immigration and Emigration Department officials in a special operation last week.
The immigration officials conducted a special operation in Jaffna and Vavuniya last Thursday and Friday and arrested these Indian nationals who had violated their visa conditions.
Sources at the Department told the Daily Mirror that 26 persons were rounded up in many areas in the Jaffna Peninsula whereas two foreigners were taken into custody from Vavuniya.
Amongst the arrested Indian nationals were about 23 males and five females. They were all reported to have come from South Indian cities.
According to sources, these foreigners were roaming in the North engaging in astrological activities and soothsaying.
They had generally charged Rs.200 to tell one's future and fortune and even higher rates up to Rs.20, 000 to Rs.30, 000 to perform remedial measures to ward off evil effects. The officials seized fox heads and various other materials used to perform poojas by them including pictures of Hindu deities.
All these nationals had arrived in the country on 30-day tourist visa and had extended it time to time to remain further to make their living.
The officials who seized the passports of these foreigners had instructed them to prepare their return tickets to be sent back to their country in the coming week.
Officials of the Monitoring, Intelligence and Investigation Unit are conducting inquiries on the instructions of Immigration and Emigration Controller General Nihal Ranasinghe and Controller Visa and Border W M M B Weerasekara. (Kurulu Koojana Kariyakarawana)