---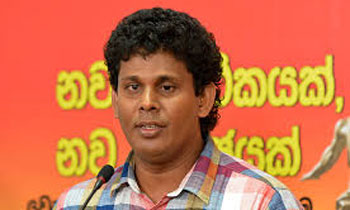 The Voice Against Corruption (VAC) said yesterday if 89 investigations were followed through by the Attorney General, half of the government members would be imprisoned.
Addressing a press briefing, VAC Convener Wasantha Samarasinghe said although it revealed many fraudulent activities involving parliamentarians, not a single case was filed against these individuals in court despite inquiries being held.
"The unity government came to power on the promise of taking legal action against corrupt individuals. This is not a united government but a government that is united in corruption," he said.
Commenting about the unused building rented out by the Agriculture Ministry, Mr. Samarasinghe said the building owner had been paid Rs. 23 million including VAT as service charge.
"The transaction is an utter waste of public funds. The deal was made ignoring the guidelines set by the Auditor General. A total of Rs. 1,140 million has been paid as rental when the premises had not been used at least once in three years, and the agreement expires a year from now. However, the names of several ministers and their families surfaced on major corruption cases which we will expose in the coming weeks," he said.
Meanwhile, Mr. Samarasinghe appealed to President Maithripala Sirisena and relevant authorities to take prompt action against those responsible for corruption.
"The VAC has already exposed corrupt government projects with justifiable evidence. If impartial trials were made on the accused, at least half of the government will have to be caged in the Welikada prison," he said. (Thilanka Kanakarathna)