---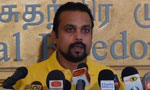 National Freedom Front (NFF) Leader MP Wimal Weerawansa today warned that spies representing the Indian Intelligence Agency (RAW) would have free reign to come to Sri Lanka if an Indian Emergency Ambulance Service was allowed to come into the country.

"Most of those recruited for the proposed Ambulance Service would be in favour of India. It will be operated countrywide and therefore, spies from RAW would be able to gather details of persons living in areas that they operate and create a database," he said.

He said India has the worst health service in the world and as such calling for an Ambulance Service to be run by them was absurd. "There is no quality emergency ambulance service or quality roads in India," he said.

He said the Health Ministry would have no control over the ambulance service once it was launched as the ownership of the service would be theirs.

MP Weerawansa said it was evident that government planned to sacrifice the Sri Lankan economy to please 'big brother' India and that those who try to object were being labelled traitors. He said all the government needed to do was to give its giant neighbour the slightest opening and it would grab the chance with both hands to the detriment of Sri Lanka. (Chaturanga Pradeep)