---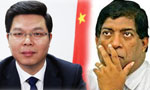 Chinese Ambassador Yi Xianliang , who responded yesterday to criticism that the Chinese loans were expensive, said yesterday that he had asked Finance Minister Ravi Karunanayake why he talked about yet another loan from China if the loans were expensive.
At a media briefing of a select group of journalists, the Ambassador said his government had stipulated fixed lending rates for developing countries. Asserting that the concessionary loan rate was only two percent, he said Sri Lanka could borrow a significant amount from EXIM Bank of China based on the relations between the two countries.
"Some ministers also criticised saying Chinese loans were expensive. We have regular or fixed interest rates for developing countries. It is two percent not only for Sri Lanka. It is five percent for commercial loans," he said.
He said, "I spoke to Ravi, the Minister of Finance. Ravi has criticised this many times publicly. I asked him, "If you don't like this one, why do you, again, talk with me about another?"
Commenting on the Port City project, he said it was an investment of US $ 1.4 billion and very important for Sri Lanka.
'Unfortunately, it was suspended for one and half years. But, through the efforts from both sides, importance was attached to this project. Despite the suspension, we have made no policy change towards Sri Lanka. China and Sri Lanka were, indeed, friends for 1600 years, not just from the last year. We request the company concerned to follow the instructions and decisions taken by the government of Sri Lanka," he said.
He said the company sustained a daily loss of US $ 1 million due to the suspension, and asked what would be the end result if a project of another country were suspended in that manner.
"We have no hidden agenda here. We follow the law," he said.
He asked how Foreign Direct Investments(FDIs) could be attracted if projects were changed along with the change of governments. (Kelum Bandara)
Video by Buddhi