---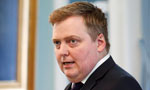 Iceland's embattled prime minister, Sigmundur Davíð Gunnlaugsson, has tendered his resignation in the wake of a mounting political crisis over his family's offshore investments, local media have reported, but his departure has yet to be agreed by either his coalition partners of the country's president.
The agriculture and fisheries minister, Sigurður Ingi Jóhannsson, told state broadcaster RUV that Gunnlaugsson had resigned.
Local media said the move needed approval of both the rightwing Independence party and the president, Ólafur Ragnar Grímsson, before it could be official.
Reports said Gunnlaugsson would stay on as chairperson of his Progressive party, and Jóhannsson would take his place as prime minister.
The leader of the Independence party, finance minister Bjarni Benediktsson, was reportedly in talks with Grímsson on Tuesday afternoon. (theguardian)