---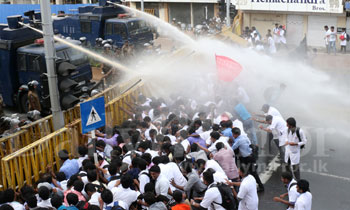 The Polduwa Junction today turned into a mini battlefield after around 2,000 anti-SAITM protesters attempted to get past police barricades put up to prevent them from reaching the country's supreme legislative body—Parliament.
The anti-SAITM protest, organized by the Inter University Students' Federation (IUSF), was backed by the Inter University Bhikku Federation (IUBF) and the Medical Faculty Students' Action Committee (MFSAC).
The students were demanding the Government to abolish the SAITM immediately and withdraw the proposed Kotelawala Defence University (KDU) Bill, allowing SAITM students to be enrolled at the KDU.
The protest march that began outside the University of Visual and Performing Arts in Colombo at around 11am was obstructed by police and the Anti-riot Squad at the Polduwa Junction with the use of water cannons and tear-gas.
The Anti-SAITM protesters struggled to gain ground and attempted to break through the barriers while the Anti-riot Squad attempted to disperse them by tear-gassing them for nearly 30 minutes.
Banners and placards demanding the government abolish the SAITM and empty tear-gas canisters were seen strewn all over the Polduwa Junction soon after the mini battle between the students and the law enforcement authorities.
The protesters vowed to continue with their protests until all attempts to establish another SAITM by changing just the name of the institution were scrapped by the government. (Thilanka Kanakarathna)
Video by Sanjeewa