---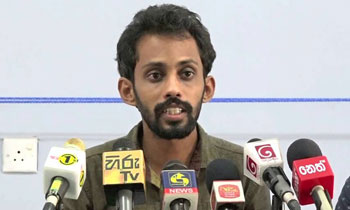 The Inter University Students' Federation (IUSF), at a meeting with President Maithripala Sirisena today said the President had so far failed to take a firm stance on the South Asian Institute of Technology and Medicine (SAITM) issue.
IUSF Convener Lahiru Weerasekara said President Sirisena had informed them that he was yet to discuss the issue with the representatives of SAITM. The President earlier promised us that a decision would be taken soon with regards to the SAITM issue, but today he admitted that he was yet to discuss the matter with the relevant authorities," he said.
He said they had informed the President that students belonging to eight medical faculties continue to refrain from taking part in lectures until a proper solution was given to them with regards to the SAITM issue.
Meanwhile, President Sirisena has advised students of university student federations to attend lectures.
The President had promised to make a decision on SAITM after holding talks with other student federations, the deans of the eight medical faculties, Sri Lanka Medical Council(SLMC), University Grants Commission (UGC) and the SAITM administration.
The discussion was held yesterday at the Presidential Secretariat with the participation of IUSF representatives, members of Medical Faculty Student Activists Committee and the Inter University Bhikku Federation (IUBF). (Yoshitha Perera)