---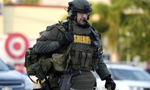 Islamic State's Amaq news agency said on Sunday that the Islamist militant group was responsible for the shooting that killed at least 50 people in a massacre at a gay nightclub in Orlando, Florida.
"The armed attack that targeted a gay nightclub in the city of Orlando in the American state of Florida which left over 100 people dead or injured was carried out by an Islamic State fighter," Amaq said.
However, two U.S. officials familiar with the investigation into the massacre said that no evidence had yet been found showing a direct link between the massacre and Islamic State or any other militant group.
The officials, who spoke on condition of anonymity, also said they had yet to see any direct contacts between any extremist group and the suspect.
A leading theory, said the officials was that the suspect somehow was inspired by Islamic militants without explicit oversight or orders to carry out the attack. One official said early information, the nature of which he did not disclose, indicated that the shooter was motivated by a mixture of "hate" and religion.
A Twitter account associated with Islamic State posted a photo earlier Sunday purported to be Omar Mateen, identified by U.S. authorities as the shooter.(Reuters)