---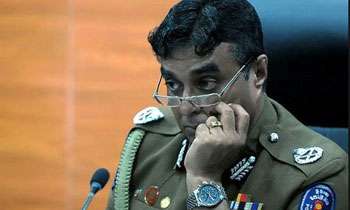 Inspector General of Police (IGP) Pujith Jayasundara had been summoned to the Government Analyst's Department today (Monday 14) to give a voice sample with regard to the investigation into the alleged VIP assassination plot, Government Analyst Ariyananda Welianga said.
He said the IGP had been asked to report to the Department this morning to obtain a voice sample to check whether the IGP's voice can be detected in the audio recordings provided by Anti-Corruption Force Organisation Working Director Namal Kumara.
Last year, the CID commenced an investigation after Namal Kumara claimed that the former director of the Terrorist Investigations Division DIG Nalaka de Silva had discussed with him an alleged assassination plot on several VIPs.
Ha had handed over several recording of telephone conversations related to the alleged conspiracy to the Criminal Investigations Department (CID).
More than 100 recording of the conversations had been submitted to the Government Analyst's Department by the CID for further analysis and Namal Kumara and former DIG Nalaka Silva had given their voice samples to the Government Analyst's Department in September last year.
In October the CID informed the Fort Chief Magistrate that the Government Analyst had identified 123 voice cuts as those of ex-DIG Nalaka de Silva from recordings sent to the Government Analyst.
Earlier, Namal Kumara alleged that he was introduced to former DIG Nalaka de Silva by IGP Pujith Jayasundara.
It is the first time that an IGP had been called into the Government Analyst's Department over an investigation.(Darshana Sanjeewa)