---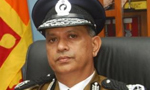 Police Chief N. K. Illangakoon who has announced his retirement from the service next month went on one week's leave from yesterday, police sources said.
Mr. Illangakoon who is the 33rd Inspector General of Police in Sri Lanka will retire on April 12, in place of whom the government is yet to appoint a successor.
He had decided to take his last remaining holidays until March 30 and report for duty for the last 12 days.
The IGP is said to be visiting each and every Senior Deputy Inspector General Range in the country to meet all the policemen and higher rankers prior to his farewell.
During his absence Senior DIG VIP Protection S. M. Wickramasinghe had been appointed as the Acting IGP, Police Media Unit said.
However, a cold tussle was rife at present between three senior most officials of the Department such as Senior DIG Administration Gamini Navaratne, Senior DIG VIP Protection S. M. Wickramasinghe and Senior DIG Western Province Pujith Jayasundara for the post of IGP as the government had failed to nominate a name so far, the sources said.
Senior DIG Gamini Navaratne's is also known to reach the retirement age in a few months time. (Kurulu Koojana Kariyakarawana)