---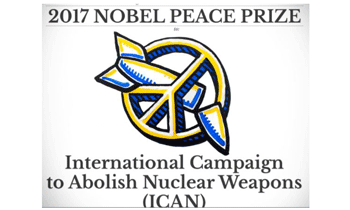 The Norwegian Nobel Committee today awarded the Nobel Peace Prize-2017 to the International Campaign to Abolish Nuclear Weapons (ICAN).
"The organization is receiving the award for its work to draw attention to the catastrophic humanitarian consequences of any use of nuclear weapons and for its ground-breaking efforts to achieve a treaty-based prohibition of such weapons," the Nobel Committee said.
The ICAN is a coalition of non-governmental organizations from around 100 different countries around the globe.
Through its work, ICAN has been a driving force in prevailing upon the world's nations to pledge to cooperate with all relevant stakeholders in efforts to stigmatise, prohibit and eliminate nuclear weapons.
To date, 108 states have made such a commitment, known as the Humanitarian Pledge.