---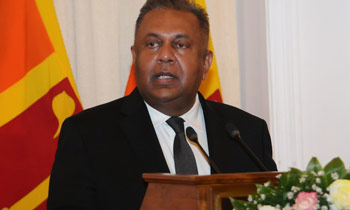 Finance and Media Minister Mangala Samaraweera called on the private media to expose corruption and shortcomings, if any with sufficient evidence and he would protect the right of everybody for fair criticism.
Addressing the staff of the Government Information Department for the first time after he assumed duties as the new Media Minister, Mr. Samaraweera stated that Private media always highlighted the Opposition views apparently due to their ignorance about the truth.
He said the Government Information Department should be the centre of the government in future promoting democracy, reconciliation and development. "Politics is immaterial in this exercise as political colours and parties are not relevant in the course of democracy, reconciliation and development" he added.
Samaraweera observed that when it comes to democracy, it was not a right limited only to those voted for the ruling party. Also reconciliation signifies all communities, Sinhalese, Tamils, Muslims, Malays and Burghers marching forwards with a sense of Sri Lankan identity, the minister stated.
He argued that not only those who voted for the swan, elephant and the hand symbols but also those who try to scuttle the government programmes through demonstrations with abusive slogans would also benefit when Sri Lanka becomes the economic hub of the Indian Ocean.
The Minister opined that the country cannot march forward as a nation divided as Sinhalese, Tamils and Muslims. He called on the fellow countrymen to accept the diversity in the society while maintaining the Sri Lankan identity of every individual.
"We cannot allow extremists to push the country into another war or terrorism again. We can see some people trying to spread extremism in the south and the northern counterparts are waiting to exploit that situation. Some people are trying to ignite a Sinhalese- Muslim riot in the country. Those who are frustrated because of their failure to come to power again want to fulfil their aspirations even through a bloodbath," Samaraweera charged. (Thilanka Kanakarathna)