---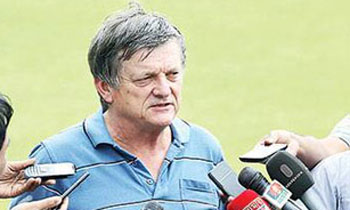 On a tour to Bangladesh next month, Sri Lankan team will not only be benefited with the appointment of Chandika Hathurusinghe (Head Coach) and Thilan Samarweera (batting coach) but also Dr. Phil Jauncey (psychologist) because all three have worked with the Bangladesh team.
'I have worked with the Bangladesh team for three years and was there on a number of tours', Dr. Jauncey, speaking exclusively over telephone from his Brisbane residence, said on Friday morning.
In fact, this time Dr. Jauncy is not scheduled to travel with the team but his skill at the camp in Colombo is bound to help the players. 'I am reaching Colombo on Tuesday and my two weeks with the players will be very hectic'. Interestingly, Dr. Jaucey is known to be a good motivator but he does not believe in motivating the players.
'I do not believe in motivation or giving lectures on positive thinking as motivation or positive thinking can not be seen with the eyes. . My job will be to assist the players to achieve the goal and perform better. I have to make them to understand this'. 'I would not examine what 'motivates' players to succeed, but will look at what stops them from gaining success'. Dr. Jauncy has sent a list of 40 questions to be distributed among the players and he will now make players to understand on how the future can be controlled and will explain the various steps for success.
Dr. Jauncy has worked with the cricketers and other sports persons in Australia, New Zealand and few other countries. He will interact with the media once arrives next week. . Dr. Jauncy has written three books on his favorite subject and was kind enough to send a copy of one of his books to this reporter.(Pakistan Observer)