---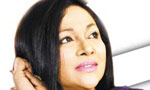 Former Benthara – Elpitiya SLFP Organiser Geetha Kumarasinghe yesterday said she would continue her political career with the Joint Opposition and would take part in the May Day rally of the Joint Opposition at Kirulapone.
Addressing a media briefing, Mrs. Kumarasinghe said she had decided to attend the rally, where the people of Benthara-Elpitiya Electorate would prefer to participate.
"I was the only woman, who represented Parliament from the Galle District at national level politics. There was no single Parliamentarian for 15 years in that electorate. This hit was not for me, but for all the women," she added.
Mrs. Kumarasinghe said the Government had sent her home despite the Government's guarantee for increase the female representative percentage at Parliament.
She said she did not need to work with the United National Party (UNP).
"I am not interested with the Organiser post. I would never leave the people of Benthara-Elpitiya Electorate for any reason," she added. (Kalathma Jayawardhane)
Video by Sanjeewa