---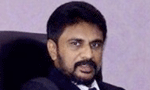 The agreement to provide vehicles on lease terms to 58 MPs holding chairmanships in Divisional Coordinating Committees has run into a snag with the Secretary of the Ministry of Parliamentary Reforms and Mass Media Nimal Bopage refusing to place his signature on the said agreement.

He said that his refusal was based on several issues and that he was told to, "Sign or resign". He revealed this at a media briefing at the Ministry of Mass Media on Tuesday.
Defending his position the secretary said this proposal had not received the approval of the Technological Committee and that repayment was to be made in 60 monthly instalments but the present parliament had only another 45 months to go and he had no right to burden a future parliament with the remaining instalments.
He said a problem had also arisen regarding the ownership of the vehicles.
He said his refusal to sign was due to these reasons, he said.
The president, too, does not seem to be in favour of this proposal and no final decision has been taken. However, he (the secretary) would not sign it, he said.
He said, "I have been told to sign or resign not as a threat but as a matter of course. The prime minister is a good statesman. What he said was correct; as my duty is to sign a document which has been approved by the Cabinet -- and if I fail to do so I should resign. I am correct and the reasons I give are justifiable". (Muditha Dayananda)