---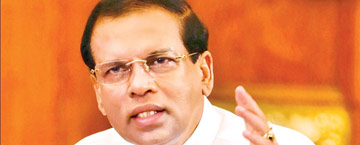 President Maithripala Sirisena, in an exclusive interview with Lankadeepa, said the speech he made at the Sri Lanka Foundation Institute (SLFI) with regard to the FCID action on heads of forces was drawn from his conscience.
"The objective of establishing the FCID is not to mingle in matters of various companies or individuals and to interrogate them. There are several divisions in the police department to handle such matters. There is deviation from the duties assigned to FCID. They should understand their duties and responsibilities. They should focus on large scale financial frauds.
Last year information was uncovered about large deposits amounting to $ 500 millions by several Sri Lankans in a Bank of a gulf country. An investigation was launched for which they required a letter signed by me and I gave it. These officers had made several visits to the relevant country for investigations and legal action was to be taken promptly. But so far nothing has happened. Why do they delay such big frauds?
What we hear is about cases over stealing flag posts, the transfer of vehicles and distribution of relief items.
Their scope of duties is wide and people and the government expected them to do engage in their duties meaningfully without engaging in trivial pursuit of insignificant incidents. My speech at the SLFI was drawn from my conscience. When the Heads of the Forces are taken into custody, I must be aware of it as the Minister of Defence.
That is what I meant by the balance of the different institutes. Will those investigators take responsibility if these actions caused unrest? It is my responsibility to protect the forces and the honour of the war heroes. The investigations into the fraud and corruption should be done according to the proper procedure. They have full independence, but as the as the Minister of Defence, I should be informed.
"When things happen without my knowledge, unnecessary issues crop up in the country and tension mounts up. No person can challenge the authority of law. When we are called upon to act according to the law, how can we secure the institutions that are established to protect the law? As the President, I have a big responsibility. But some look at it with a different perspective," the President said.