---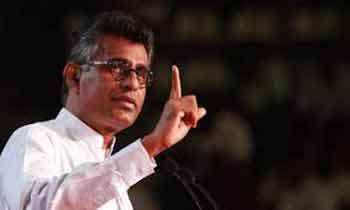 Megapolis and Western Development Minister Champika Ranawaka yesterday pointed out that he is not among the 118 individuals who received funds from the Central Bank bond scam.
He made this remark while responding to questions from journalists in Kandy. "We are the ones who taught the government to earn money and the ones who raised our voices against corruption. I'm not among those who received money from the bond scam. I don't know whether you are also among the 118," he told journalists.
He also emphasised that President Maithripala Sirisena might not be aware of who created '100-day-programme but it was issued with their election manifesto for the last Presidential Election.
Minister Ranawaka said the country would become unstable if only the Executive Presidency was changed as it was the core of the Constitution. "Therefore, the entire Constitution should be changed," he said.
He said that before abolishing the Executive Presidency, a stable parliamentary system should be formed via implementing the old electorate system.
Minister Ranawaka said that he doesn't like to comment further on what the President said as he is the country's head. (J.A.L Jayasinghe)