---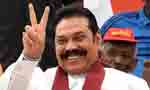 Former president and present Kurunegala District MP Mahinda Rajapaksa, speaking at the May Day rally organised by the Joint Opposition in Kirulapone, Colombo today, said his family members, including his son MP Namal Rajapaksa and brother Gotabaya Rajapaksa faced imminent arrest, but he would not shy away from fighting for the rights of people because of such threats.
Mr. Rajapaksa said he had been active in politics for over 40 years and opposed the United National Party(UNP) throughout. He said no basis for the allegation that he had made certain underhand deals with that party.
"After today, there will be cases against those who are close to us. I told Namal to be ready. They have implicated Gotabaya as well. I may also have to go to jail. But our solidarity with the people will never be broken even if I am jailed a thousand times," he said adding that the government was making false allegations against his family.
Commenting on the SLFP May Day rally in Galle, he said both were SLFP rallies. "I'm here representing the SLFP faction in the Joint Opposition," he said.
He said it was sad to find that the SLFP, formed by leaders S. W. R. D. Bandaranaike and D. A. Rajapaksa after they quit the UNP during ts heyday, had been subjugated by the UNP at the moment. He claimed that the government was not a unity government but a coalition of two political parties.
He said the SriLankan Airlines and Mihin Lanka were not loss making organisations though the government said so. He said they were making operational profits. He said the Prime Minister had misled the Cabinet and Parliament regarding a financial crisis.
"The foreign loans obtained during my tenure amounted to US$ 12 billion and US$ 4 billion was spent as war expenses. This government has obtained loans worth US$ 7.4 billion. This is why the country is engulfed in a financial crisis today," he said.
While heavily criticising the proposals to increase VAT and other taxes, he said it would make a severe impact on the cost of living and promised that he would always be committed to the people and all workers.
Meanwhile, Joint Opposition Leader MP Dinesh Gunawardane said the people didn't vote for them to make an alliance with the UNP and pledged that they would send the UNP-led government home and establish a Mahinda Rajapaksa government.
"We should get together to put an end to the fraud of Yahapalanaya and compensate the people," he said.
MP Wimal Weerawansa said they would commence their battle to send the government home from the rally which was organised in collaboration with the Joint Council of Trade Unions, to end the suppression of workers.
Trade Union activists W.H. Piyadasa, Somaweera Chandrasiri and Jagath Kumara, and MPs Udaya Gammanpila, Dilum Amunugama, Pavithra Wanniarachchi and Gamini Lokuge also addressed the crowd gathered at the rally.
Almost all SLFP MPs of the joint opposition attended the rally despite a warning by the party to take action against them if they attended it. (Lahiru Pothmulla)
Video by Sanjeewa