---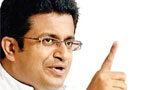 Commenting on his choice of attire during the Switzerland visit, MP Udaya Gammanpila today said he was not foolish enough to wear cotton cloths in a country like Switzerland, which had a colder weather.
He was responding to various charges that he attended the Inter-Parliamentary Union (IPU) meeting in Geneva recently, dressed in smart casuals and not in the National Dress.
"I will wear the National Dress at international events if I'm representing the country. Otherwise, I won't wear it as it may not be the best choice of clothes, due to different climates. Just as it is not wise to wear a full suit with a tie in a tropical country like ours, it's not wise to wear the cotton made National Dress in countries with colder weather. I won't make such unwise move," he told a news conference.
Mr. Gammanpila said his luggage with clothes was not put into the flight, which flew from Doha, Qatar to Switzerland on time during his transit.
"These kinds of things happen. There was not ample time for the air service to transfer the luggage. They have sent it to Geneva with the next flight on April 1," he said.
He said he had to buy new cloths in Geneva to take part in the meeting with the IPU General Secretary on March 31.
"Those who criticise my choice of attire in Geneva and claim that I have deliberately misplaced the luggage, so I can wear trousers haven't clearly travelled abroad," he said adding he didn't wear the National Dress everywhere. (Lahiru Pothmulla)
Video by Isuru