---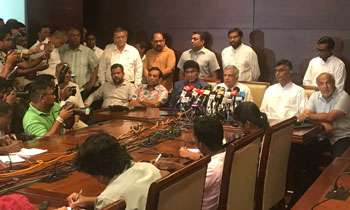 UNP leader Ranil Wickremesinghe said today the Prime Minister should be the person who has the majority support in parliament and that he commands the majority support.
"I urge to convene Parliament without leading the country into chaos. It is not necessary to create crisis in the country. Let the Parliament decide whether who should be the Prime Minister," he said.
He said this at a news conference held at temple Trees attended by constituent parties of the United National Front including Jathika Hela Urumaya (JHU), Sri Lanka Muslim Congress (SLMC) and the Tamil Progressive Alliance (TPA).
Jathika Hela Urumaya (JHU) General Secretary Patali Champika Ranawaka said the United National Front (UNF) could form a government without the support of the United Peoples' Freedom Alliance (UPFA).