---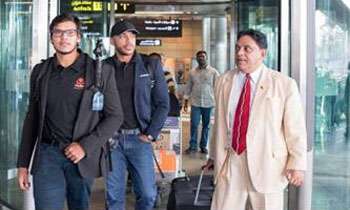 Responding to reports of 'preferential' treatment to former President Mahinda Rajapaksa's sons upon arrival in Qatar, Sri Lankan Ambassador to that country A.S.P Liyanage said that he broke no diplomatic protocols and therefore did nothing wrong.
Liyanage faced criticism when photographs of him carrying the bags of Yoshitha and Rohitha Rajapaksa at an airport in Doha went viral earlier this month.
The ambassador carried a bag, while a colleague brought two other bags in a trolley.
"I did nothing wrong. These are boys that I have seen grow up and when I saw them struggling with several bags I naturally stepped in to help. I would have done that to anyone in such a situation," he said.
The two Rajapaksa sons were part of the team of Sri Lankan rugby players invited by the embassy to participate in the Ambassadors Rugby Cup.
"As the embassy had invited the team to participate in the matches, we thought it was only right that we welcome the team at the airport. The Sri Lanka Navy rugby team will also be arriving in Qatar for a match soon and we will accord them the same privileges," Liyanage concluded.
Meanwhile, MP Namal Rajapaksa said earlier that his brothers were very capable of handling malicious personal attacks on nonsensical matters.
"CH&FC was invited by the Doha Rugby Football Centre for a friendly match. The Sri Lankan Ambassador was at the airport to receive the team. My brothers are very capable of handling malicious personal attacks on nonsensical matters but keep CH&FC out from this delirious claims," he tweeted.(Darshana Sanjeewa)