---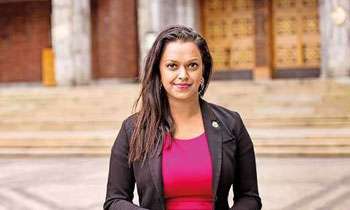 While saying that the future of Sri Lanka will be determined by those who are willing to think differently, Sri Lanka-born Khamshajiny Gunaratnam, who is the current Deputy Mayor of Norway's Capital Oslo, said she believes the youth in Sri Lanka could make a change.
She expressed these views during an interview with the Daily Mirror recently.
"Speak up your mind, listen to each other and co-operate. Staying in our comfort zone with the same people will not bring any progress to you as a person or for this country as a whole," she said.
"Go out there, seek different people and talk to someone you never thought you could talk to," she added.