---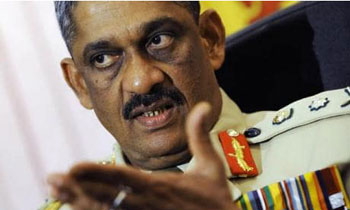 Minister and Field Marshal, Sarath Fonseka said today he had information on the crimes committed by former army commander Jagath Jayasuriya, the then Vanni commander and that he was ready to give evidence if proper legal action was instituted against him.
"I received complaints that Mr. Jayasuriya was engaged in crimes as Vanni commander with regard to those who were arrested. He continued the same strategy even after he was promoted as army commander. I have information regarding those who committed the crimes. I am ready to explain the crimes committed in detail if proper legal action is instituted," he said.
The minister told a news conference that he attempted to launch an investigation against Mr. Jayasuriya just after the war had ended but he was removed from the post of army commander when the investigation was launched.
"I was aware that he committed crimes and I tried to initiate an investigation. As the initial step, I arrested Mr. Jayasuriya's Aide-de-camp," he said.
The minister said crimes had been reported from certain places and added that he was of the view that an investigation should be launched to find out those who committed such crimes to protect the dignity of the country and the army.
"They are not crimes that the army has to be collectively responsible for but they are isolated incidents committed by a few individuals. We need to reveal those incidents and punish those involved," he said and added that if proper action was not taken within the country, the UN and the Security Council could do so according to international conventions.
"If there had been any crime, legal action can be taken against those involved according to martial law. Country's law is not necessary for that," he said.
When asked if he was ready to give evidence against Mr. Jayasuriya before an international court, he said it should be decided by the government. (Ajith Siriwardana)