---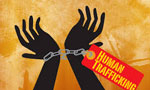 Foreign Employment Bureau (FEB) officials and the police yesterday busted a human trafficking network and rescued ten victims including six teenage girls, who were forcibly detained for more than six months.
Three sub-agents were arrested during the raid on several lodges in Maradana.
Those rescued had come to the sub-agents seeking job opportunities in Middle Eastern countries.
Preliminary investigations had revealed that the sub-agents had arranged forged travel documents for the victims and promised to send them for Middle Eastern countries through the Mattala Rajapaksa International Airport (MRIA).
FEB sources said some of girls were between the ages of 17 and 20 and residents of Empilipitiya, Monaragala and Deniyaya.
Three suspects who pretended to be sub-agents of the FEB had been arrested and investigations are ongoing to arrest the main suspect in the human trafficking racket. He is said to be a resident of Akkaraipattu in Ampara.
The arrested sub-agents are residents of Maradana.
"The women and the men have been forcibly detained for more than six months in several lodges located in Maradana. They had made payments to the suspects on the promise that they will be sent to the Middle East as housemaids. Forged passports had also been arranged by the suspects. They had made arrangements to send them abroad on visit visas. "A woman aged 40 was also among those rescued," an official of the Foreign Employment Bureau said.
The Bureau's Investigation Department is expected to record statements from those resuced.
Meanwhile, the three suspects would be produced in Court. (Piyumi Fonseka)