---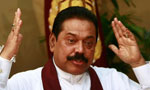 Former President Mahinda Rajapaksa today said it was a foolish act if the Joint Opposition supporters hooted in front of the Sri Lanka Freedom Party's' (SLFP) headquarters during the Paada Yathra.
Speaking to media, Mr. Rajapaksa said there was no such incident in his presence and he would never let such things to take place.
He also said it was foolish to engage in such an act, as it was their party headquarters.
"Some other political party could have been involved in this incident as some people are used to engage in such things. There were some government representatives among the supporters at the Paada Yathra. The hooting is a fact to be reviewed. In my opinion, it was done under somebody else's instigation," he added.
He said it was depressing if someone among the Joint Opposition supporters were involved in this incident. He said the others should reason out this situation, as to why such an incident had happened.
"The headquarters was a respectable place. There is a long history. This place had been sealed and tear-gassed by the United National Party. The ones who are now talking about the hooting have done such things also," he added.
He said the Government should listen to the peoples' voice instead of looking at them in a prejudiced manner. (Kalathma Jayawardhane)
Video by Buddhi