---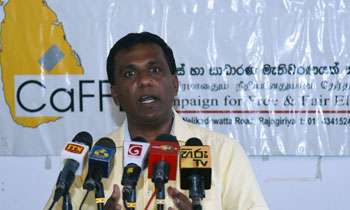 The only solution to the ongoing constitutional and political crisis was to conduct a Presidential and General election simultaneously on a single day as early as possible, the Campaign for Free and Fair Elections (CaFFE) said.
CaFFE Executive Director Keerthi Tennakone told the media today that President Maithripala Sirisena was constitutionally empowered to declare a Presidential poll after the completion of four years in his office on January 8, 2019. If the politicians and political parties who continue to shout from roof tops demanding an election as a way out from this impasse can come to a agreement and make a request to President to dissolve Parliament with the consent of a two thirds majority in Parliament in early 2019.
"If this becomes a reality we can have a new President, new government, new cabinet and a new Parliament with new hopes by next February. But to do that political parties and politicians must give a break to their political expediency, personal agendas and show maturity and statesmanship because this issue is an unprecedented political and Constitutional crisis and victims are none other than the 22 million people, the economy, our cultural and social values," Mr. Teennekone stressed.
"If all politicians and political parties truly desire to protect democracy I don't see why they should oppose to this. If they cannot agree to hold a general election before four and half years, President Sirisena can declare a Presidential poll after January 8," he emphasized.(Sandun A Jayasekera)
It was a setback for the democratic tradition practiced for decades in Sri Lanka to seek the legal redress for the clash between the executive and the legislature. Truth is that this crisis was started with the expulsion of Prime Minister Ranil Wickremesinghe from the premiership and replacing him with Mahinda Rajapaksa by President Sirisena. Therefore, it is up to President Sirisena to bring this precarious situation to normalcy because he is the creator of it, he added.
Commenting on the cry to protect democracy from many quarters, Mr. Tennekone said it was peculiar and hilarious to witness that every Tom Dick and Harry shout to safeguard democracy today.