---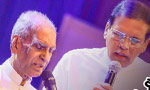 President Maithripala Sirisena issuing a condolence message over the demise of Pandit W.D. Amaradeva said that the nation is stricken by the demise of great maestro who belonged to the generation of pioneers.
"The country is indebted to him for the exceptional service he rendered to us by exploring the roots of local music to enrich it to an unprecedented high.
Maestro Amaradeva reached pinnacle of Sinhala music and brought our nation to fame. He was a true genius, blessed with innate wisdom refined in the school of life, and perfected by the association of scholars of language the arts and philosophy. Above all, his was the voice of the deep- seated Sinhala cultural self.
The two songs 'sasara wasana thuru and 'rathnadeepa janma bhumi' suffice to distinguish the eminence of maestro Amaradeva. Though he has left us today after his magnificent contribution to the nations the aura of his oeuvre will kindle and inspire us forever.
He was also the embodiment of simplicity and contentment in life. Although the voice that awakened a nation has been silenced today, it will continue to echo in the ears and infuse life into the hearts of the future generations too.
Maestro Amaradeva, may you attain the bliss of Nibbana," the President said.