---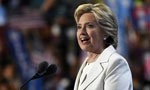 Making history as the first female major party nominee for president, Hillary Clinton said Thursday that America faces "a moment of reckoning" over the economy, terrorism, national unity, and the candidacy of Republican opponent Donald Trump.
"Powerful forces are threatening to pull us apart," Clinton said in her acceptance speech to a wildly cheering convention crowd, adding that "bonds of trust and respect are fraying" and all Americans "have to decide whether we're going to work together so we can all rise together."
While arguing that her "primary mission" as president will be "more good jobs with rising wages right here in the United States," Clinton also plans to say that the nation faces a "stark" choice between her and Trump over national security.
Citing recent terrorist attacks in the U.S. and abroad by "determined enemies that must be defeated," Clinton plans to say: "No wonder people are anxious and looking for reassurance — looking for steady leadership."
Clinton, who was still working on her remarks as late as Thursday morning, was likely to echo domestic proposals she made during her successful primary campaign, aides said, an agenda ranging from increased college assistance to a higher minimum wage to equal pay for women in the workplace.
Eight years after losing her Democratic nomination race to Barack Obama, the former first lady, U.S. senator from New York and secretary of State also sought to reintroduce herself to the American people, with the help of testimonials from other speakers and a biographical film.
"She is going to lay out a case tonight about the constancy of the battles she's fought for children and families, about her own story, the people who have inspired her, those she's fought for," Clinton campaign chairman John Podesta told NPR News.
He said Clinton will "lay out a vision that we're stronger together, not when we try to divide each other, not running a campaign of bigotry as Donald Trump has done."
The Democratic nominee plans to invoke ideas she wrote about in the 1996 book It Takes A Village and to promote the theme of her 2016 campaign, "Stronger Together," campaign officials said.
Daughter Chelsea Clinton introduced the nominee before the speech, telling personal stories of their lives together and calling her mother "a fighter who never, ever gives up and who believes that we can always do better."
In the hours leading up to Clinton's appearance, the crowd at the Wells Fargo Center included supporters of Vermont Sen. Bernie Sanders, who challenged Clinton in Democratic primaries this year. Many of his allies wore hats and shirts adorned with a single word: "Bernie."
Clinton, accused by Sanders backers of not paying enough attention to the issue of income inequality, planned to say she will focus on areas of the country that have long "been left out and left behind" by the modern economy.
"From our inner cities to our small towns, Indian Country to Coal Country," read excerpts of her speech. "From the industrial Midwest to the Mississippi Delta to the Rio Grande Valley."
Sanders backers made their presence known throughout the evening.
At one point, as a group of veterans endorsed Clinton from the podium, some California delegates chanted "no more wars!" and "peace, not war!" Other Democrats sought to drown them out with "U-S-A.! U-S-A.!"
Clinton's acceptance speech ends a program featuring speeches by a procession of Democratic lawmakers, candidates and activists, spiced with musical performances by Carole King and Katy Perry. Clinton took the stage to the sounds of Perry's "Fight Song."
Various speakers throughout the night also assailed Trump.
Khizr Khan, the Muslim father of a U.S. soldier killed in post-9/11 military action, took aim at a Trump proposal to temporarily ban Muslims from entering the United States. His slain son may not have been allowed in the country under Trump policies, Khan said.
Asking Trump if he had ever read the U.S. Constitution, Khan pulled out a pocket book of the document and said: "I will gladly lend you my copy."
Preparing for the program, workers tested pyrotechnics, and King and Perry did sound checks. The arena roof featured nets filled with red, white and blue balloons, ready to be dropped on the nominee and her family after the speech.
The Clinton speech caps a four-day convention in which President Obama, Vice President Biden and ex-president and spouse Bill Clinton gave prime-time speeches praising their party's new nominee and condemning Trump as wholly unqualified for the presidency.
Trump did not stay idle as Clinton accepted her nomination Thursday. The Republican nominee campaigned in Iowa, where he again attacked "Crooked Hillary" as an unfit candidate who offers only a third term of the Obama administration.
In a written statement, the Republican candidate said Clinton and the Democrats live in a "fantasy world" that ignores the threat of Islamic State terrorism, porous borders with Mexico and millions of Americans who have stopped looking for work as bad trade deals send jobs overseas.
"I propose a different vision for America, one where we can break up Washington's rigged system and empower all Americans to achieve their dreams," Trump said. "In our vision, we will put America first."
(USA Today)