---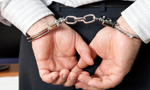 One of the main heroin distributors in the country was arrested this morning at the Katunayake Bandaranaike International Airport (BIA) while returning from India, Police said.
They said the Police Narcotics Bureau (PNB) had informed the Immigration Department official at the BIA on Sunday about the suspect following details revealed from the probe into the 110 kgs of heroin nabbed from a ship last week.
Police identified the arrested suspect as Mohammed Muwas Mohammed, a resident of Kalubowila, Dehiwala.
In total, 14 foreigners including 10 Iranians, two Indians, one Pakistani and a Singaporean were arrested since last week in connection with the smuggling racket.
Police said the drug dealers from Pakistan and Afghanistan were engaged in large scale drug trafficking in collaboration with local drug dealers.
The Navy and the PNB in a joint operation carried out in the seas off southern Sri Lanka on Wednesday seized 110 kg of heroin which had being smuggled via boats. (DS)