---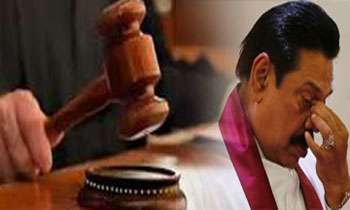 With regard to the Quo Warranto Writ petition filed by 122 MPs questioning the legitimacy of Prime Minister Mahinda Rajapaksa and the Cabinet, the Court of Appeal today fixed the case for arguments on January 16, 2019.
The Court directed all respondents to file written objections by January 4 while the petitioners were directed to file their counter objections by January 11.
At the onset of the inquiry, the respondents moved a preliminary objection saying that they did not fully receive notices and the brief of the case, and that is a matter of non-compliance with the rules by the petitioners, therefore the entire application be dismissed.
However, Court of Appeal Justice P. Padman Surasena and Justice Arjuna Obeysekara overruling the objection observed that there could be several ways to comply with the rules in serving notices and brief to the respondents.
The Court also directed the Registrar to re-issue the notices and the brief of the case and the petitioners were also directed to take necessary steps to make the briefs available to the respondents through Court. (Shehan Chamika Silva)