---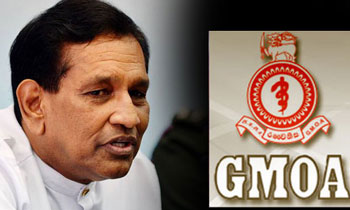 Health Minister Rajitha Senaratne in a letter sent to the Sri Lanka Medical Council (SLMC) has ordered to stop proceedings in the current election of members to the council stating that there would be legal implications.
In a letter dated March 23, the minister had stated that he had received several complaints on conducting the above election without proper election procedure regulations published in the Gazette notification.
"Sri Lanka Medical Council being a public enterprise should adhere to all rules and regulations imposed on them from time to time. I have instructed the legal draftsman to expedite the publication of above regulations and then I will submit it to the Parliament for approval," he said.
Meanwhile, addressing a press conference the Government Medical officers' Association (GMOA) Secretary Dr. Haritha Aluthge today said that there is a conspiracy to sabotage the SLMC election.
Election to fill four out of eight graduate medical officers' vacancies was held on January 23 and 24 and all the four vacancies were secured by members of the GMOA by 80 to 90 percent of the total number of votes cast.
The GMOA, several months before the election claimed that regulations for the election were not gazetted but the election was held without any interruption due to the unanimous agreement of the related parties.
Therefore, Dr. Aluthge said the health minister is attempting to stop the election preventing the appointment of more GMOA members to SLMC considering its massive victory in the previous election.
Further, Dr. Aluthge said the letter sent by the minister was handed over to the SLMC at a discussion held on Friday (23) however, the majority of SLMC membership decided to abide by the letter and to continue with the election proceedings.
In order to the majority decision the GMOA said that the SLMC Registrar should publicize the election announcement officially by today (28).
GMOA further said it would resort to stern trade union actions if any attempt to delay or halt the election. (Thilanka Kanakarathna)