---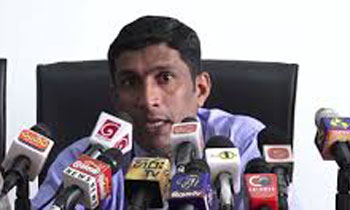 The Government Medical Officers' Association (GMOA) today wrote to Health Minister Rajitha Senaratne to state his frank opinion on the Appeal Court ruling on the South Asian Institute of Technology and Medicine (SAITM) in Malabe instead making contradictory statements.
GMOA Secretary Dr. Naveen D. Zoysa told a media briefing that the Deputy Solicitor General (DSG) who appeared for Minister Senaratne had told courts that the Sri Lanka Medical Council (SLMC) was not empowered to visit private institutions such as the SAITM.
"It is surprising to note that the Minister's counsel had made such a statement in court while outside Courts he had said the Health Ministry worked according to the recommendations of the SLMC. The minister should clearly state whether he advised the DSG to express the minister's actual opinion on this matter," Dr. Zoysa said.
Dr. Zoysa said a proper inquiry should be launched against the Deputy Solicitor General for acting against the instructions of his client, if he had expressed something that went against Minister Senaratne's instructions. (Kalathma Jayawardhane)