---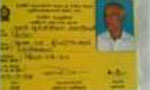 To the utter amazement of bank officials, a man carrying a senior citizen's identity card indicating he was 169-old-man is reported to have called over at a state bank at Delthota. The date of birth was shown as August 30, 1849 making him 169 years old.
The customer Nuge Arachchige Nelson Silva of Wetakepotha in Diyamankad was a trader by profession. On making inquiries, the bank officials revealed that the man's actual date of birth was September 30, 1946 and that he was 70 years old.
He said he had not received his national identity card though he had applied of one and as such had applied for a senior citizen's identity card which he received on August 30, 2016 with the incorrect figures.
The man said he often faced problems and embarrassment when he produced his senior citizen's identity card. (Suranga Rajanayake)