---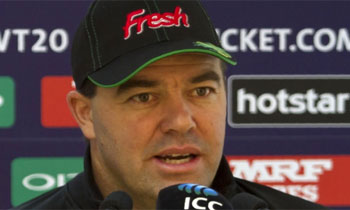 Zimbabwe cricket team coach Heath Streak, who shared the Bangladesh dressing room with Chandika Hathurusingha when the Sri Lankan was the head coach of the BCB, thinks Hathurusingha did the right thing by choosing to coach his country.
Streak was appointed by the BCB in May, 2014, around a month after Hathurusingha joined as the Tigers' coach. In May, 2016, Streak decided not to continue as the Bangladesh pace bowling coach right before his contract with the BCB was set to expire.
Hathurusingha's decision to resign from the Bangladesh job broke out following a disastrous tour of South Africa where the Tigers lost all seven matches across the three formats. Last December, Hathurusingha got appointed as the coach of the Sri Lanka side.
The two former colleagues, Streak and Hathurusingha, are currently touring Bangladesh for the tri-nation ODI series, scheduled to start Monday.
I wasn't here but obviously, at the end of the day, Chandika is a Sri Lankan. The opportunity to coach your own country is always a big thing. I am sure if it was a Bangladeshi coach in another country and he was offered the opportunity to coach his country he'd have done it," said Streak during Zimbabwe's arrival press conference at Mirpur Sher-e-Bangla National Cricket Stadium in Dhaka Saturday.
"Most people would find it hard to turn down the opportunity. I think Hathurusingha did a really good job for Bangladesh; people mustn't forget the successes they have had under him. Whilst he did sign a three-year contract, I think it is also difficult when you don't (have your family close). He lives in Australia and his family is there. Coaching is difficult when you are away from your family for extended periods of time. Country is always a prestigious thing to coach; everyone aspires to coach their own country," Streak explained.
Hathurusingha is touring Bangladesh for the first time since his resignation. The tri-series will be followed by two Test matches and as many T20Is between the Tigers and the Lankans.(Dhaka Tribune)