---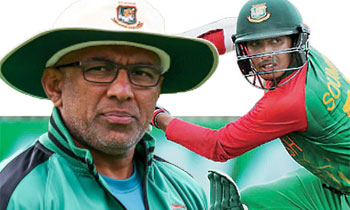 Bangladesh batsman Soumya Sarkar thinks that Sri Lanka Cricket new Head Coach Chandika Hathurusingha can't give any extra advantage to the Sri Lankan team.
Soumya Sarkar who played a major role in the series victory against Pakistan and South Africa at home is now in a situation of getting dropped from the national team. He was also criticized in Hathurusingha's era for getting excessive opportunities.
Now as Hathurusingha is gone, Soumya's fate might change if he doesn't perform in regular basis. In a recent press conference, Soumya said about his targets for the new year, talked about Sri Lanka and also informed that he will give everything he can to get back in form.
"New Year! Their (Sri Lanka) coach changed, ours will change too. Team plans will be changed too. I want to start the new year well. The result will go on their way who will play well. We will do everything we can to perform well,"he said.
"I think I have to think deep if I start thinking it. He knows a lot about us. He will give everything he can to his team. But giving excessive is a problem too as they can't take it all and it will be the players who will play, not him. And, we will also have our plans for sure to dominate them. We know about Hathurusingha too. So, we know that what plans he can make."he said.
"If I wouldn't have perform well, then I wouldn't have been in the team and no one would have liked me. If I don't even get admitted in the school, then how can they like me. For getting admitted into the school, I have to give admission exam. When I did good in my exam, the coach liked me. As simple as that."he added.(bdcrictime)