---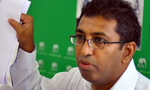 Despite all the COPE members agreed with MP Ajith P. Perera's suggestions that Perpetual Treasuries should be held responsible in the controversial Central Bank bond issue and the Police should conduct an investigation, the suggestions were not included in final COPE report, Deputy Minister Harsha De Silva said today.
Speaking at a media briefing today, Dr. De Silva, who is also a member of the COPE said the suggestions were endorsed by all COPE members during the time the COPE Chairman MP Sunil Handunnetti walked out of the meeting.
The suggestions were also included in the draft of the report, he said.
"The most important thing is that all members of COPE had agreed to all recommendations," he said while assuring that further action would be taken on the report.
"We the UNP respect COPE Chairman Sunil Handunnetti," he said.
Responding to a question raised by the journalists as why Mr. Handunnetti walked out of the COPE meeting, Dr. De Silva said it was upto Mr. Handunnetti to answer that question.
"I told Mr. Handunnetti to stay back but he did not heed to my request," he added.
He said the foot notes, which are included in the report of Committee on Public Enterprises (COPE) on the bond issue, only reflected the policy of issuing bonds and not the controversial transaction.
A section of COPE members placed their signatures to foot notes, which the report comprised while others did not agree.
Dr. De Silva said that the foot notes only denoted the methods under which bonds were issued.
"These only contain as to whether the bonds were issued through Primary Dealers or directly and the percentage of both methods in the mixed policy that is followed since 2008," he said.
Further, he said there could be others who could be responsible for bond scams other than Arjuna Mahendran and Arjun Aloysius.
"If you flash the torch you would be able see that there are some more, who are responsible," he said.
This, he said, could be found out if one examined the secondary market details. (Yohan Perera)
Video by Danushka