---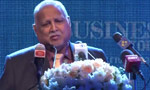 Business tycoon Harry Jayawardena, who is known as an outspoken personality, this week told a packed business gathering in Colombo, where the country's Prime Minister was also present, that views should be obtained from top business leaders when top government officials go on foreign tours.

"When you go abroad, you must consult us. All of us are here because of our achievements, so we have that knowledge to share with you. But you're busy most of the time," Jaywardena complained to Prime Minister Ranil Wickremesinghe.

Responding to Jayawardena, Prime Minister Wickremesinghe, who in his speech delivered a scathing attack on the Wijeya Newspaper Group's financial daily Daily FT, said that the businessmen had forgotten that Sri Lanka's first Executive President J.R.Jayewardene's favourite song was Frank Sinatra's 'I did it my way'.

"Even I would have done it my way, but now it is our way. So we must all come together to rebuild the country," Wickremesinghe quipped. Wickremesinghe is the nephew of late J.R.Jayewrdene.

Meanwhile, clearly with reference to the higher taxes the government has imposed to plug the country's ever-expanding budget deficit, Jayawardena said, "I must also say that the Finance Minister knows us very well. It is true that they should get the funds from people who have the funds. But don't try to tax us too much," he added. (Supun Dias)