---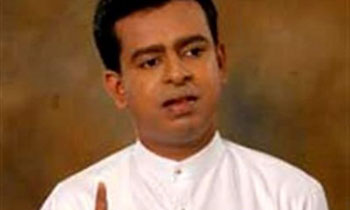 Industry and Commerce Deputy Minister Buddhika Pathirana reconfirmed his statement that imported milk powder contains harmful substances and said yesterday health ministry officials had misled Health Minister Rajitha Senaratne on this matter.
He said this in parliament in response to a statement made by the health minister that imported milk powder did not contain any harmful substances as claimed by the deputy minister.
The deputy minister said he revealed these facts about milk powder based on complaints received by the Consumer Affairs Authority (CAA) and the deputy minister's office.
He said the health ministry together with the World Health Organisation(WHO) had put up a notice saying that drinking milk powder leads to 21 diseases and proved that it was not he who had made a false statement but the the health ministry officials who provided wrong information to the health minister.
The deputy minister said a former health ministry secretary held a top post at a milk importing company and said there was the possibility of unduly influencing health ministry officials with regard to investigations.
He urged the Speaker to appoint a Parliament Select Committee as requested by some MPs to investigate the complaints received by CAA and his office and decide on the action that needed to be taken.
The deputy minister requested the finance minister to allocate funds from the next budget to purchase technical equipment to test the sugar content in food, harmful substances in drinking water and imported milk. (Ajith Siriwardana and Yohan Perera)