---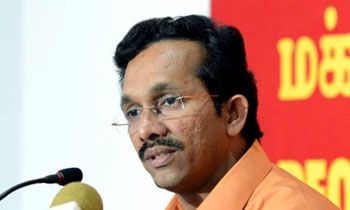 Parliamentary Committee on Public Enterprises (COPE) Chairman and MP, Sunil Handunnetti yesterday revealed that losses amounting to more than Rs.36 billion had been incurred in Extension of the Southern Expressway Project (ESEP).
He told a news conference organised by the 'Voice Against Corruption' (VAC) that the Chinese government was also responsible for the misappropriations that had taken place when carrying out the project.
He said the unity government launched the project at an estimated cost of US$1.9 billion or Rs.243 billion, which was a loan from China's Exim Bank, with the government agreeing to bear 15 per cent of the cost of the first and the second phases.
The MP said the FSDI Company which was constructing the expressway had presented an additional estimate of Rs.36 billion for extending the flyovers by 2.78 kilometers.
He said according to the original document the flyovers were to have a total length of 6.33 kilometers but later requested permission to extend them up to 9.11 kilometers.
"The new requisition was submitted after the construction began and the agreement was signed. On November 13, 2016 the PM's Secretary approved the estimate but the FSDI had requested approval for the extension on November 30, 2016. It is suspicious whether the Prime Minister had permitted extension before the company's request," the MP said. He said the company had sent a letter to the RDA Senior Project Director on November 19, 2016 requesting approval for salaries of the foreign employees mostly from China with an annex of a letter sent earlier seeking permission from National Economic Council member R. Paskaralingam.
"It is surprising to know that the RDA granted approval on the letter sent to Mr. Paskaralingam," he said and added that the appointments were confirmed by the RDA Senior Project Director without evaluating their qualifications but just looking at the CVs sent by the company.
The MP said that apart from the other major issues the company was permitted to import a luxury Benz Car duty free to be given to a powerful minister who has authority for the project. He said the matter would be taken up for inquiry by COPE.
"We are not against expressways. But this scam is little more than the whole income received by selling the Hambantota Port to China," the MP said. (Thilanka Kanakarathna)
Video by Susantha