---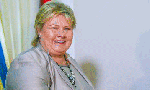 While praising the tourism industry in Sri Lanka, visiting Norwegian Prime Minister Erna Solberg said today she had a most enjoyable holiday in the island during the last week.
She said that there was immense scope for high growth in tourism sector in Sri Lanka.
Ms. Solberg expressed these views when she met President Maithripala Sirisena at Presidential Secretariat this morning.