---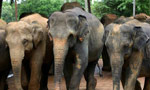 Colombo High Court Judge Manilal Waidyathilaka today further extended till June 22 the order given by him preventing the handover of the custody of 15 elephants that were being held at the Udawalawe Elephant Transit Home and the Pinnawela Elephant Orphanage, to their owners on bonds.
At the outset the inquiry, Attorneys for Good Governance marked their appearance into the case on behalf of the public and said the issues involved in the case came under the Public Property Act.
They said they would intervene into the matter on behalf of the public.
Senior State Counsel Deleepa Peiris did not object to the intervention of the Attorneys for Good Governance to the case.
State Counsel Peiris complained to the Judge that TV Channel "Buddhist" was making comments through its channel while a court case was in progress. He asked the Judge to order the TV Channel to refrain from making such comments.
Counsel Prasanna Lal Alwis appearing on behalf of "Buddhist TV" said all media institutions in the country were giving wide publicity to the case.
However, there was no channel to report the view of the affected party and the channel Buddhist had appeared on behalf of them.
Judge Waiyathilaka ordered the CID to carry out individual investigations on each of the 15 elephants and to come for a settlement if possible.
The matter was taken up for inquiry before the High Court on a revision application filed by the AG to set aside the order made on May 20 by Magistrate Gihan Pilapitiya to release the 15 elephants to its owners on bonds to use them for processions.
The Magistrate had made this directive on considering the submissions made by the Counsel who appeared on behalf of the owners of the elephants emphasizing the need of the elephants by certain temples to use them in processions of religious events.
However the AG had sought a revision to the Magistrate's order emphasizing that the elephants were productions of the case and further the beasts were public property. Therefore if the beasts were released it would defy the law.
The CID took the elephants to their custody from various locations especially around the Maharagama area during their investigation into illegal capturing of wild elephants by an organized gang headed by Roshan alias Ali Roshan.
It was revealed that the gang had operated the scam conniving with some officers of the Wildlife Department who had assisted Roshan to alter the entries in the elephant register of the Wildlife Department and on forged licenses. T. Farook Thajudeen