---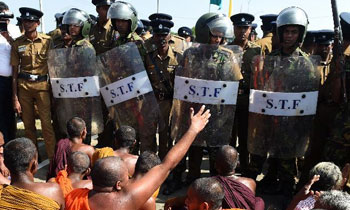 Thirty two suspects, who were arrested on charges of violating court orders and damaging public property during a protest in Hambantota, were further remanded till January 16 by the Hambantota Magistrate Court today.
At least 41 persons were arrested for damaging public properties during the protest held against the Ruhunu Development Project in Hambantota on Saturday.
Thirteen suspects were arrested by the Hambantota Police, 21 by the Ambalantota Police, four by the Suriyawewa Police and three from the Hungama Police.
The chaos started when a pro-government group tried to confront a large crowd led by an Opposition MP protested against the proposed industrial zone.
The Police and the Special Task Force later managed to control the two groups, but the pelting of stones made things impossible.
Several people including Police officers were injured in the clash.
Video by Roshan Gunasekera