---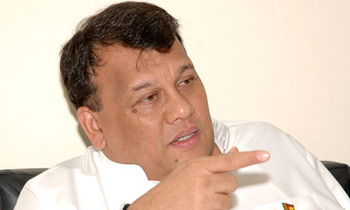 The Hambantota Port Development Project (HPDP) agreement with China Merchants Port Holdings Co. Ltd (CM Port) will be renegotiated to achieve a win-win situation with crucial discussions to be held on Friday, Ports and Shipping Minister Mahinda Smarasinghe said.
He told the weekly SLFP news briefing today that national interests would under any circumstances be compromised but the US$1.4 billion equity swap with the Chinese Company extremely necessary to ease Sri Lanka's debt servicing and strengthen foreign reserves.
The minsiter said he would try his best to make the US$1.4 billion joint venture to be based on a 60 - 40, 70 - 30 or even a 51 - 49 percent equity equity swap.
He said there would be no selling or leasing of 15,000 acres of land to China for 90 years in the Hambantota district to set up an exclusive economic zone. The lease period will definitely be less than 90 years.There will be no selling of lands or properties to the Chinese. There will be no violation of the laws of the land. There will be new clauses and a new agreement.
"Since I assumed duties as the Minister of Ports and Shipping I did a thorough study on the all aspects of the HPDP and I have decided as the minister in charge to renegotiate the framework agreement signed by the Sri Lanka Ports Authority (SLPA) and the CM Port," the minister said. (Sandun A Jayasekera)