---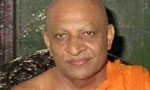 Stressing the need to ensure transparency when entering into agreements, the Mahanayake of the Malwatte Chapter, the Most Venerable Thibbotuwawe Sri Siddhartha Sumangala Thera said yesterday that he could not approve or disapprove of the agreement to hand over Hambantota Port without first perusing it.
He expressed these views when Joint Opposition (JO) members, led by former speaker, UPFA MP Chamal Rajapaksa, met him at the Malwatte Maha Viharaya.
The JO members had talks with the chief incumbents of the Malwatte and Asgiriya Chapters in Kandy yesterday (Jan 3) regarding the agreement to lease the Hambantota Port for 99-years.
"We should study the agreement before we proceed. We should not forget that this will provide many job opportunities for the residents of the area," he said.
Mr. Chamal Rajapaksa said that the harbour had been built for the industrial development of the area."I was the minister when the harbour was built. People of the area are agitating as they do not know what this agreement is about. We request the government not to lease the harbour or the lands in the area on secret agreements. They should reveal the contents of the agreement to the country first," he said.
He said that the residents of Hambantota were worried about the agreement and angry about their lands being given to the Chinese.(J.A.L. Jayasinghe)