---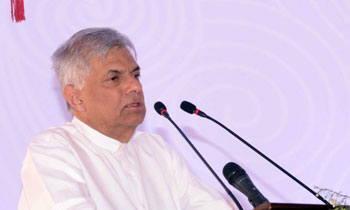 The industrial zone in Hambantota was originally planned by the previous regime led by former President Mahinda Rajapaksa, Prime Minister Ranil Wickremesinghe said on Saturday.
Speaking during the inauguration of the Southern Industrial Zone, the Prime Minister said the present government was also following the former regime in setting up the zone.
" The previous regime actually got into an agreement to set up the zone in 2014," he said
Further he said that a committee headed by Law and Order Minister Sagala Ratnayake and Former Speaker Chamal Rajapaksa had been appointed to find suitable land for the zone.
"I thank Mr. Rajapaksa for his cooperation with the government in finding lands for the zone," he said.
He said if the government had decided against going for an agreement with China or a joint venture to swap against the loans given by Exim Bank it would be been necessary to increase VAT further.
"Finance Minister Ravi Karunanayake suggested us that VAT would have to be increased or the Port has to be sold out but we finally decided to go for a Joint Venture," he said.
" We would have loved to keep a 40 percent or 51 percent stake of the port but that could not be done as we would have had to increase the VAT to generate funds to pay the loan this year," he added while revealing that more than Rs. 1 billion was to be paid this year.
Chinese Ambassador Yi Xianliang said Chinese investors would always give priority to Sri Lanka.
He said a China-Sri Lanka bilateral relation was a role model for all bilateral relations in the world.
"We have investments in India, the US and number of other countries but we give priority to Sri Lanka," he said.
He then requested the Chinese investors to take care of the environment when running their industries.(By Yohan Perera)