---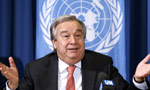 The UN General Assembly unanimously appointed former Portuguese Prime Minister Antonio Guterres on Thursday as the ninth secretary-general of the world body for five years beginning January 1, 2017, the Reuters said.
Guterres, 67, will replace Ban Ki-moon, 72, of South Korea. Ban will step down at the end of 2016 after serving two terms. Guterres was Portugal's prime minister from 1995 to 2002 and UN High Commissioner for Refugees from 2005 to 2015.
"He is perhaps best known where it counts most: on the front lines of armed conflict and humanitarian suffering," Ban told the General Assembly after Guterres was appointed. "I have long valued his advice, and long admired his spirit of service."
"His political instincts are those of the United Nations: cooperation for the common good, and shared responsibility for people and the planet," he said. "He recognizes the crucial importance of women's empowerment, from peace tables to the halls of this house."
The 15-member UN Security Council last week unanimously recommended that the General Assembly appoint Guterres. He beat out 12 other candidates, seven of whom were women, amid a push for the first woman to be elected.
Diplomats were watching to see who Guterres appoints to senior UN positions amid speculation by diplomats and UN officials that China would like one of its nationals to head peacekeeping and that Russia is keen to lead political affairs.
Currently, a French man runs peacekeeping, an American man leads political affairs and a British man is in charge of humanitarian affairs.
A senior UN Security Council diplomat, speaking on condition of anonymity, said several people had insisted that Guterres did not do any deals to win Russia and China's votes.
"(Guterres is) the sort of person who will pick a strong team around him, appointment on merit," said the diplomat, adding that, while he had not heard it directly from any Chinese diplomats "it is clear (China is) making a significant challenge for the Department of Peacekeeping."
When asked earlier this month if Russia had an interest in one of the senior UN positions, Russia's UN Ambassador Vitaly Churkin told reporters: "We do believe that Russia should be properly represented in the Secretariat."
He did not specify which post, but added: "We are not the only ones who are expressing the interest in various positions."