---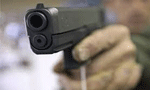 The police yesterday arrested a suspect in connection with the shooting incident which a Sub Inspector was killed and two Constables injured at Maspotha in Kurunegala on Tuesday night.
Police said the Sub Inspector Dasanayaka Rathna Banda (59) and two Police Constables attached to the Kurunegala Police Station were injured when two suspects had opened fire at them while they were searching a suspicious car.
The police officers had left from the police station to search a vehicle after Police 119 emergency unit had received information stating a car was travelling in the area using fake licence plate. Two suspects had opened fire at the police as they tried to search the vehicle. The three police officers were injured during the counter attack and the suspects fled the scene abandoning the vehicle.
SI Banda succumbed to his injuries after being admitted to the Kurunegala Hospital and Constables Subasinghe and Bandara sustained serious injuries.
Police launched investigation into the incident and arrested a suspect, a resident of Moratuwa in connection with the shooting. A pistol was recovered from his procession.
Police also recovered another pistol, 16 mobile phones and a laptop inside a lodge which the suspects were residing.
Police are on the trail of the other suspect who had fled the crime scene. Kurunegala Chief Magistrate Geethani Wijesinghe conducted the magisterial inquirer into the incident. (Darshana Sanjeewa and Athula P. Bandaranayaka)